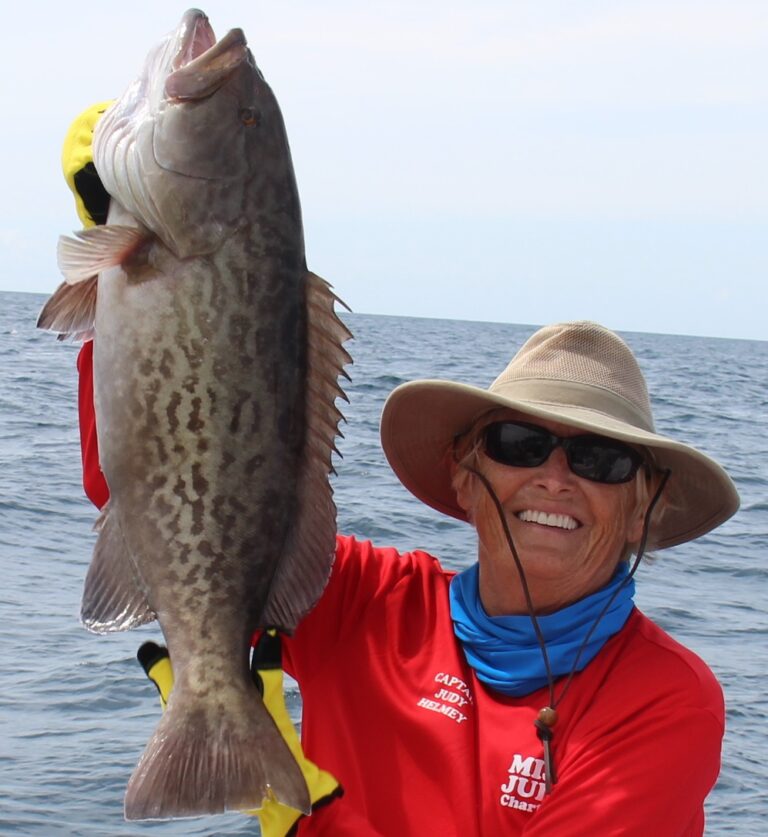 Judy Helmey
Current Employment/Affiliation:
Captain Judy Helmey is the owner of Miss Judy Charters, a family business operating for over 50 years in the Savannah and Tybee Island, Georgia area offering inshore, offshore and Gulf Stream charter fishing trips. As the owner and manager of the company, taking the reins from her father in the 1960s, she oversees an experienced group of charter captains operating ten boats to meet their client's needs. Captain Judy is also an accomplished writer and columnist and runs an annual fishing school.
Experience:
Judy grew up fishing with her father and began working in the charter business at the age of 13, becoming the youngest licensed charter captain in Georgia at the age of 18. Her close relationship with her father as a single parent helped shaped her appreciation for the natural world and fisheries. She often writes about her experiences growing up with Captain Sherman Helmey, a colorful character himself, and their unforgettable customers.
Captain Judy was appointed to the Council's Snapper Grouper Advisory Panel and has served as a panelist for several state and regional conferences concerning wildlife and fisheries management policy. She holds eight state fishing records and two world record catches.
Fisheries Management Philosophy:
I have been involved in the fishing industry my entire childhood and adult life. Being raised by a single parent, who was an avid fisherman and accomplished charter boat captain in the 1950s, laid the groundwork that prepared me for the fishing industry. I have seen changes in the industry and fish populations that most people only get the opportunity to read about. Having experienced many changes over the past fifty-six years gives me a full view of what has actually happened from a real and honest fishermen's point of view. This knowledge and experience helps me to realize that there is a need for more management in the future of our fishery. It is necessary to ensure that our children have a future in enjoying our natural resources.
The decisions are not easy and require that we use facts along with our experience. I am one of the lucky ones who has seen the fisheries at their best and some that have collapsed. I know a little bit of management can and did go a long way, but also know there is always room for improvement. I am sincerely honored to have been selected to serve on the South Atlantic Fishery Management Council.