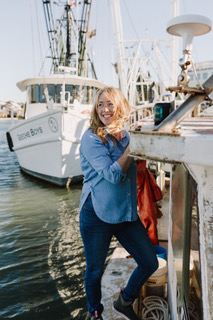 Kerry Marhefka
Current Employment/Affiliation:
Kerry Marhefka is the cofounder of Abundant Seafood based in Charleston, South Carolina.
Experience:
Kerry Marhefka is a Maine native and a graduate of the College of Charleston with a B.S. in Marine Biology. From 1998 to 2007 she worked as staff for the South Atlantic Fishery Management Council, first as a technical assistant and then as a fishery biologist. While at the Council Kerry's work primarily focused on marine protected areas. It was while working at the Council that Kerry met her husband Mark, a second-generation commercial snapper grouper fisherman.
In 2006 Kerry left the Council staff and together, she and Mark founded their company, Abundant Seafood. They started one of the first Community Supported Fishery programs in the United States. Abundant Seafood sells the catch from their snapper grouper boat the Amy Marie, as well as other fishermen's catch to restaurants throughout the Southeast. Kerry and Mark also have two retail seafood markets in the Charleston area.
Kerry serves on the Executive Committee of Local Catch, a network of community-supported fisheries and small-scale harvesters throughout North America. She has been a member of the Council's Snapper Grouper Advisory Panel and the System Management Plan Workgroup. She has also been involved with Slow Fish, an international campaign focusing on local seafood, and has worked with South Carolina Congressional members on fisheries issues. Kerry and Mark have three children who all work in the family business.