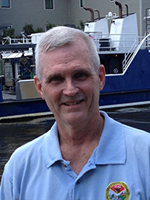 Mel Bell
Current Employment/Affiliation:
Mel Bell is currently serving as the Director, Office of Fisheries Management within the Marine Resources Division of the South Carolina Department of Natural Resources (DNR), where he is responsible for the leadership of the DNR's efforts to oversee and manage the state's varied commercial and recreational marine fisheries and related resources.
Experience:
Mel's educational background includes a BS in Marine Biology from the University of West Florida and an MS in Biological Oceanography from Old Dominion University. Beginning in 1977, he served thirty years as an active duty and reserve officer in the U.S Navy. Mel has been employed by the DNR since 1983 where he has worked as a biologist in various programs related to the development, monitoring, regulation and management of the state's recreational and commercial fisheries, including over 16 years serving as manager of the South Carolina Marine Artificial Reef Program and the DNR Scientific Diving Officer. Having a strong desire to apply his education, background, knowledge, and skills in the area of marine resources management, Mel previously served as Supervisor of the Marine Resources Division's Finfish Management Section and was appointed as Director of the Office of Fisheries Management in 2006. He has served as South Carolina's state-designated Council member since June 2012.
Fisheries Management Philosophy:
"Having spent a career working on and often directly in a wide variety of the marine environments along the U.S. Atlantic and Gulf Coasts, as well as the Caribbean and Mediterranean Seas, I have a strong appreciation for how tremendously blessed we are in the South Atlantic region to have such ecologically diverse, productive and comparatively healthy marine habitats and living resources. With proper stewardship, these habitats and associated living resources are capable of supporting a wide variety of sustainable, socially beneficial, and economically significant fisheries and other uses. Our biggest challenge in achieving effective conservation and management of these public trust resources is in understanding and properly balancing the complex interactions that occur between the habitats, the living resources, and the various resource users. The process of achieving effective stewardship of our natural marine resources and associated fisheries requires constant communication, participation, and cooperation among a wide range of individuals, including managers, regulators, scientists, and many different sectors of the public. While the challenges often seem daunting, I truly believe that together we can and must succeed in this endeavor, as we owe this to ourselves and particularly to future generations."