NOAA Fisheries Announces Limited Openings of Recreational and Commercial Red Snapper Seasons in South Atlantic Federal Waters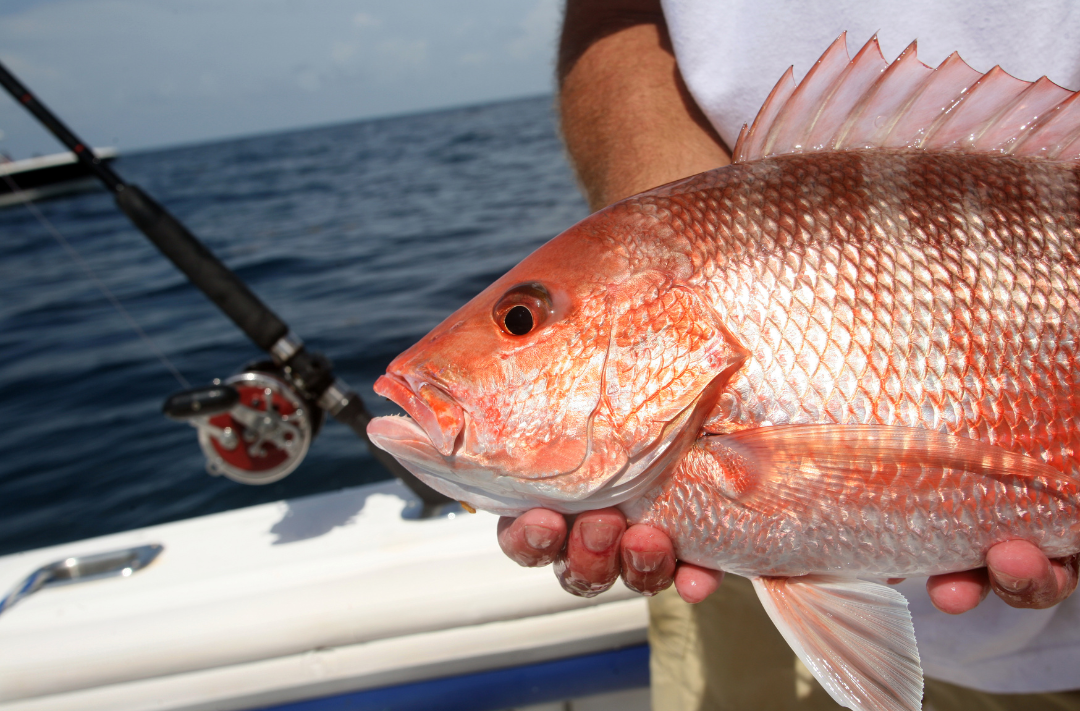 What/When:
Each year, NOAA Fisheries announces the season opening dates for red snapper in federal waters of the South Atlantic, in addition to the recreational season length.  For the 2023 season:
The recreational sector will open for harvest on the following 2 days:

July 14 and 15, 2023 (Friday and Saturday) – The recreational season opens at 12:01 a.m., local time, on July 14, 2023, and closes at 12:01 a.m., local time, on July 16, 2023.

The commercial sector will open for harvest at 12:01 a.m., local time, on July 10, 2023, and will close at 12:01 a.m., local time, on January 1, 2024, unless the commercial annual catch limit is met or projected to be met before this date.
If the commercial sector closes before 12:01 a.m., local time, on January 1, 2024, NOAA Fisheries will announce it in the Federal Register and publish another Fishery Bulletin.
During the Limited Open Seasons:
The total annual catch limit is 42,510 fish.
The recreational annual catch limit is 29,656 fish.

The recreational bag limit is one red snapper per person per day. This applies to private and charterboat/headboat vessels (the captain and crew on for-hire vessels may retain the recreational bag limit).

The commercial annual catch limit is 124,815 pounds whole weight (12,854 fish).

The commercial trip limit is 75 pounds gutted weight.
There are no minimum or maximum size limits for the recreational or commercial sectors.
Frequently Asked Questions
How did NOAA Fisheries determine the red snapper season length for the recreational sector?
NOAA Fisheries used 2020, 2021, and 2022 recreational catch rate estimates to predict the recreational landings in 2023 and the season length.
Catch rate estimates were available from the following data sources:

 red snapper-specific surveys for private recreational and charter vessel anglers conducted by South Atlantic states,
Marine Recreational Information Program, and
Southeast Region Headboat Survey.
The South Atlantic Fishery Management Council identified the following best practices to reduce release mortality and further protect the population as it rebuilds:

Avoid areas likely to have red snapper if you already have met your recreational bag limit. If you are approaching your commercial vessel limit, move to a different area.
When red snapper are out of season, avoid areas where they are common.
Use single hook rigs since the recreational bag limit for red snapper during the proposed limited fishing seasons will be one per person per day. This will potentially reduce the number of red snapper that are caught on one drop.
Use non-offset circle hooks while fishing in areas where red snapper are common.
Use a dehooking device to remove the hook. Keep fish in the water if you plan to release them or return them to the water as quickly as possible.
Use descending devices when releasing fish with signs of barotrauma.
Where can I find more information on the red snapper limited openings?
Contact NOAA Fisheries, Southeast Regional Office

By Mail: Mary Vara
NOAA Fisheries, Southeast Regional Office, Sustainable Fisheries Division
263 13th Avenue South, St. Petersburg, Florida 33701-5505
By Phone: (727) 824-5305
By FAX: (727) 824-5308

Other contacts:

Media: Allison Garrett, 727-551-5750
Sign Up for Text Message Alerts
Our Text Message Alert Program allows you to receive important fishery related alerts via text message (SMS). Standard message and data rates may apply. You may opt-out at any time. Text alerts you may receive include immediate fishery openings and closures and any significant changes to fishing regulations that happen quickly.
Sign up for one or more of the fisheries-related alerts below by texting the following to 888777:
Gulf of Mexico Recreational: Text GULFRECFISH
Gulf of Mexico Commercial: Text GULFCOMMFISH
South Atlantic Recreational: Text SATLRECFISH
South Atlantic Commercial: Text SATLCOMMFISH
Caribbean: Text CARIBFISH
Quick Glance Contact List for the NOAA Fisheries Southeast Regional Office
---
Permits Mailbox
The Permits Office in St. Petersburg, Florida now has a Permits mailbox in the front lobby (263 13th Ave. South, St. Petersburg, FL 33701). You can now drop off original permits for permit transfers. Envelopes with information labels will be provided so that your documents can be attached to the correct application. The mailbox will be checked daily. For more information contact the Permits Office at (877) 376-4877.
Other Contacts
Media: Allison Garrett (727) 551-5750