SAFMC Recruitment Announcement: Habitat and Ecosystem Scientist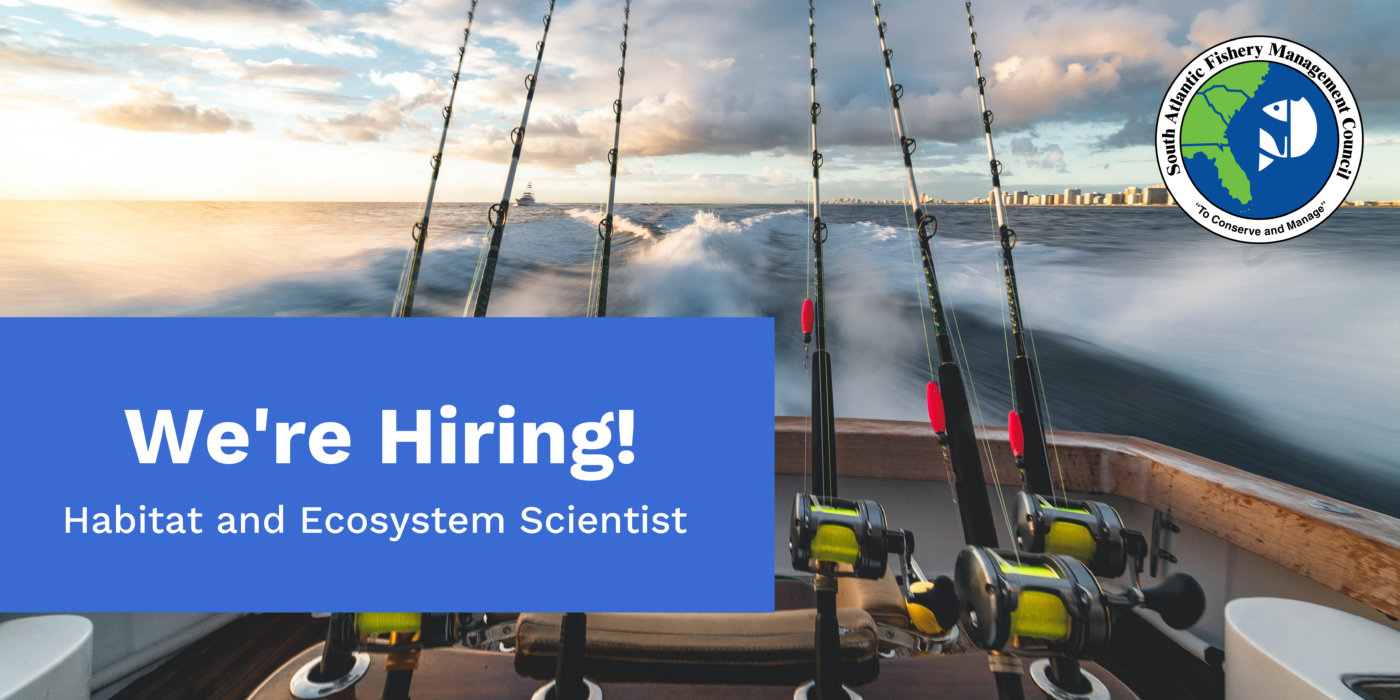 ---
SAFMC Habitat and Ecosystem Scientist
The South Atlantic Fishery Management Council (Council) is seeking a Habitat and Ecosystem Scientist to assist the Council in addressing habitat and ecosystem aspects of fishery management plan (FMP) and amendment development and related management issues, and responding to climate change, energy development, and aquaculture. The Council, headquartered in North Charleston, SC, is responsible for the conservation and management of fish stocks within the federal 200-mile limit of the Atlantic off the coasts of North Carolina, South Carolina, Georgia, and east Florida to Key West.
The Habitat and Ecosystem Scientist is a full-time position under the Science and Statistics Program but also fulfilling needs under the Council's Management Program. The Habitat and Ecosystem Scientist will be responsible for compiling and analyzing habitat-related data to support the Council's activities under the Magnuson-Stevens Act, including designation and review of Essential Fish Habitat (EFH) and other managed areas; serving as lead of ecosystem-based fisheries management (EBFM) activities; and assisting the Council in addressing issues related to climate change, energy development (e.g., offshore wind) and aquaculture.
Applicants must be willing to live in or around Charleston, South Carolina. In-office presence is currently required once weekly but subject to change.
Primary Duties and Responsibilities
Compile and analyze habitat-related data to support FMP amendments and contribute to habitat content of all FMPs and amendments including analyzing the effects of proposed actions on EFH and preparing GIS/maps to document or revise EFH.
Serve as staff lead to develop amendments to habitat-based FMPs (Coral and Sargassum) and related documents in coordination with an Interdisciplinary Plan Team. This includes coordinating the development of the amendment document, preparing and presenting proposed amendment information to the public, advisors, and the Council; and coordinating its review and submittal.
Develop Council comments on non-fishing activities that impact EFH (e.g., energy development, beach renourishment, etc.) and other designated habitats.
Represent the Council on national and regional bodies related to the Council's habitat program and EBFM, including climate-ready and spatial-based fisheries issues.
Conduct analyses needed to apply EBFM.
Serve as staff lead on issues related to climate change, energy development, and aquaculture.
Plan and coordinate meetings of advisory groups (e.g., panels, workgroups) and oversee their membership.
Knowledge, Skills, and Qualifications
Minimum Education Requirement: A master's degree or higher, from an accredited college or university, with major study in fishery science or sciences related to natural resources.
Minimum Professional Experience: 2 years of professional experience in fisheries management or policy activities directly related to the position requirements. Additional education experience may be used to provide up to 2 years of professional experience.
Skills:
Ability to research and analyze pertinent technical data.
Proficiency using statistical software (e.g., R, SAS), mapping software (e.g., ArcGIS), and modeling software (e.g., food web, ecosystem, or spatial modeling)
Demonstrated quantitative analysis and technical writing skills.
Ability to work with and lead multi-disciplinary and multi-agency teams.
Familiarity with the laws governing US federal fisheries management.
Excellent communication skills.
Supervisory Responsibilities
May be responsible for temporary supervision of special project staff.
Supervision Received
Works under direct supervision of the Deputy Director for Science and Statistics.
Travel Requirements
Duties require overnight travel of varied frequency, duration and destinations typically limited to the Southeast US. Travel to at least 4 Council meetings per year (5 days each), three of which usually require overnight travel. There are other meetings and events out of the office that may require overnight travel.
Work Environment
The work environment is deadline driven requiring tasks to be completed both individually and through collaboration with various teams and work groups. Collaborators may include coworkers, fishing stakeholders both recreational and commercial, NOAA Fisheries, non-governmental organizations, researchers, resource managers, state marine fisheries agencies, and universities.
Salary and Term
Pay for this position is equivalent to a ZPII-III. The starting salary for this vacancy is $62,286-$73,977 per year with benefits.
The standard workweek is 40 hours. Additional hours may be required when traveling.
This is a full-time, non-federal position with excellent benefits.
Closing Date
Hiring materials must be submitted by 5:00 PM EDT on May 22, 2023.
Send Cover Letter, Resume, and References to:
Chip Collier
Deputy Director for Science and Statistics
South Atlantic Fishery Management Council
4055 Faber Place Drive, Suite 201
North Charleston, SC 29405