SAFMC Recruitment Announcement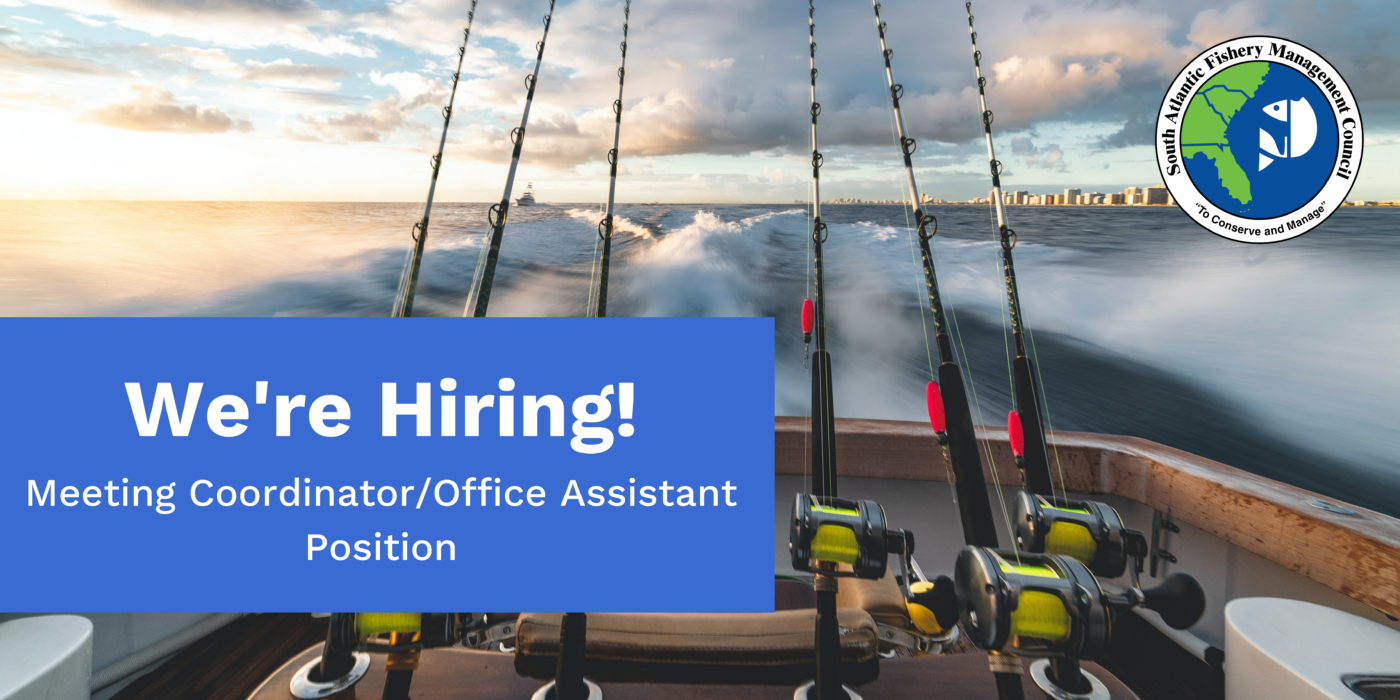 ---
Meeting Coordinator/Office Assistant Position
The South Atlantic Fishery Management Council (Council) is seeking a meeting coordinator/office assistant that will support the Council's travel and meeting commitments. The Council, headquartered in North Charleston, SC, is responsible for the conservation and management of fish stocks within the federal 200-mile limit of the Atlantic off the coasts of North Carolina, South Carolina, Georgia, and east Florida to Key West.
The meeting coordinator/office assistant is a full-time, nonfederal position with an excellent benefit package that will work closely with the administrative team and other Council staff.
Current benefits include fully employer paid individual or family healthcare and dental, employer paid short-term and long-term disability, life insurance and long-term care. Retirement plan with an employer contribution up to 14% of eligible compensation. Paid annual and sick leave are also provided.
The meeting coordinator/office assistant is responsible for all aspects of meeting and travel planning, on-site meeting support and logistics for Council and external meeting participants. The incumbent provides wide ranging administrative support of the Council's program activities.
Applicants must be willing to live in or around Charleston, South Carolina. This position is eligible for telework up to four days per week but full-time remote work is not available.
Primary Duties and Responsibilities
Responsible for arranging meeting sites, negotiating contracts and prices, acting as the facilitating liaison with Council members, staff reservations, reviewing and auditing subsequent billings.
Researches and procures meeting locations. Screens potential locations to ensure that meeting logistical requirements are met.
Initiates and tracks travel orders, reviewing and auditing claims for payment, and maintaining the Council activity schedules.
Selects, stages, loads, and transports recording and AV equipment to various meetings within our geographical area.
Sets up and operates the recording and AV equipment and troubleshoots, as necessary.
Attending meetings when necessary to provide administrative support, meeting room set up and break down, material distribution, and other activities as may be required.
Submits grant reports to the regional office. Coordinates state grants with the submission and proper documentation for payments under their annual contracts.
Coordinates running meetings via webinar and provides technical support.
Receiving visitors and telephone calls, ascertaining nature of call or visitor and determining appropriate action. General office duties such as mail distribution, supplies management, correspondence tracking.
Responding to information requests from staff and others either through personally handling or directing to appropriate source. Follows up on required actions and keeps the appropriate individual informed of the status.
Operating other office equipment as applicable to work applications.
Filing and organizing documents. Transcribing meeting materials.
Performs other duties as assigned by the Administrative Officer.
Knowledge, Skills, and Qualifications
Minimum Education/Experience Requirement: Associate degree and 1 year of related experience or a high school diploma and five years of related experience.
Preferred Experience: At least 3 years of professional experience coordinating travel arrangements and providing onsite meeting support.
Dependability, resourcefulness, and a work ethic dedicated to providing support to the Council and staff.
The individual must have the ability to travel and operate independently.
Proficiency in Microsoft Office (Word, Excel, PowerPoint and Outlook) is a must.
Proficiency with webinar software required. GotoWebinar experience preferred.
The individual must have the ability to communicate with and successfully work with staff, Council members, and the public concerning support of the Council's mission.
Ability to communicate effectively with vendors in negotiations and contractual situations.
Experience in supporting various constituencies in dynamic environments.
The ability to troubleshoot audio-visual related problems during meetings.
Strong organizational skills are required to manage multiple projects simultaneously.
Maintain a valid driver's license.
The ability to lift 50lbs.
Supervisory Responsibilities: None
Supervision Received: Works under the direct supervision of the Administrative Officer.
Travel Requirements
Is available to travel an average of 70 meeting days per year to both local and out of town meetings in support of Council activities with out of town trip durations of 2 to 6 days on average.
Duties require overnight travel of varied frequency, duration, and destination.
Has the ability to transport meeting equipment via personal vehicle.
Work Environment
Work is generally performed in an office or hotel meeting space. Work requires interacting with other staff, colleagues, and partners, informally and formally, individually and through various teams and work groups. Work schedule may occasionally exceed 40 (forty) hours per week.
Salary and Term
Pay for this position is $45,000/year with benefits.
The standard workweek is 40 hours. Additional hours may be required.
Closing Date: Open until filled.
Send Cover Letter, Resume, and 3 References to:
Kelly Klasnick
Administrative Officer
South Atlantic Fishery Management Council
4055 Faber Place Dr. Ste 201
North Charleston, SC 29405-8523
kelly.klasnick@safmc.net