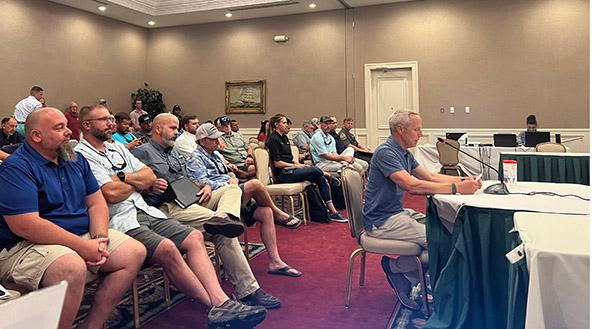 Newsworthy Notes – September 22th, 2022
---
September Council Meeting Wraps Up
Final committee reports are now available
The Council's September meeting in Charleston last week was a busy one, with lots of public input, intense discussions, and progress made on multiple fishery management plan amendments.
A news release highlighting the meeting week is available from the Council's website, but it is impossible to capture everything in a few paragraphs. Additional details are available in the final reports from each committee – Snapper Grouper, Mackerel Cobia, and SEDAR – posted at: https://safmc.net/events/september-2022-council-meeting/. Summary Motions and transcripts from the meeting will be posted once they become available.
A total of 1,047 written comments were received as part of the meeting. If you didn't get a chance to read them all, they remain available on the Council Meeting page. The Council will meet again on December 5-9, 2022 at the Blockade Runner Beach Resort in Wrightsville Beach, NC.
---
Own a boat 35′ or longer? Pay attention:
Comment Deadline Extended for Right Whale Vessel Strike Reduction Proposed Rule
Proposed speed restrictions would apply to vessels 35′ to 65′ in length along the Atlantic coast
Council members received a presentation from NOAA Fisheries during their September meeting and will provide written comments. An overview of the proposed measures, including data on how many South Atlantic-managed, permitted vessels may be affected by the proposed changes is included in the meeting briefing book materials.
Dive in With NOAA Fisheries Podcast Series Highlights Right Whale Issues
---
New! Managed Areas Information Available from SAFMC Website
---
Additional Snippets:
Request for Comments: Changes to Catch Levels, Sector Allocations, Accountability Measures, and Management Measures for Red Porgy
NOAA Fisheries is requesting comments on the notice of availability and proposed rule for Amendment 50 to the Snapper Grouper Fishery Management Plan. The latest stock assessment determined Red Porgy are overfished and undergoing overfishing. If implemented, the amendment would establish a new rebuilding plan for Red Porgy, reduce the commercial trip limit, recreational bag and possession limit, and implement a 2-month recreational fishing season. Comments are due by November 8, 2022. See the Fishery Bulletin for details.
Studying Environmental DNA and Ocean Currents to Locate Fish Aggregations
Marine scientists in Puerto Rico are investigating if water samples can be used to determine what types of fish and other organisms are present in an ocean ecosystem, and how ocean currents play a role in detecting the presence of these organisms. A new documentary video about the pilot project, funded by NOAA's Saltonstall-Kennedy Grant Program is now available. See how area fishermen were involved in the collaborative project, where two new aggregations – one for Mutton Snapper and one for Nassau Grouper were discovered. An article from Nortek Products also describes the research. Could this technology be used to identify fish spawning aggregations in other areas? Click the links and learn more!
Mark Your Calendar
Keep track of meetings scheduled by the Council from the Meetings page of the website and register for meeting webinars as information becomes available. Register early and receive email reminders as the meeting date(s) approach!
October 18-20, 2022
Snapper Grouper Advisory Panel Meeting
Town & Country Inn
Charleston, SC 29407
October 25-27, 2022
Scientific and Statistical Committee (SSC) Meeting
Town & Country Inn
Charleston, SC 29407
November 1-3, 2022
Habitat and Ecosystem-Based Management Advisory Panel Meeting
Town & Country Inn
Charleston, SC 29407
December 5-9, 2022
December Council Meeting
Blockade Runner Beach Resort
Wrightsville Beach, NC 28480