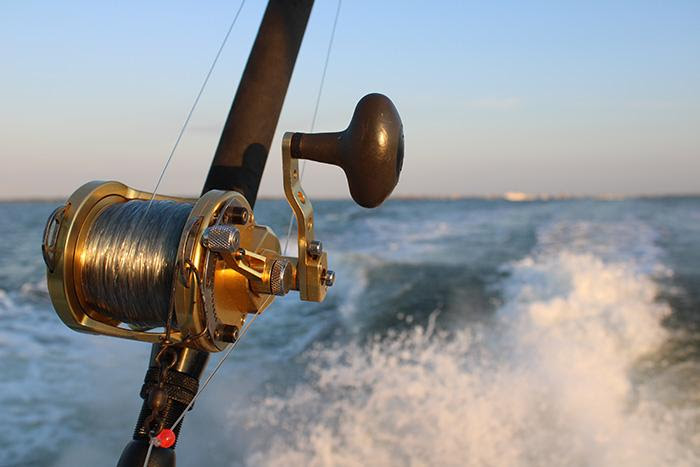 Newsworthy Notes – April 3, 2023
---
Advisory Panels Offer Fishermen the Opportunity to Get Involved
Apply now for open seats
Federal fisheries management is complex. Effective management involves input from persons directly involved in the fisheries. Congress recognized this back in 1976 when it passed legislation establishing eight regional fishery management councils in the United States (the Magnuson-Stevens Conservation and Management Act) and required the councils to have advisory panels. These advisory panels include private recreational, charter/for-hire, commercial fishermen, researchers, and others directly involved in and knowledgeable about fisheries. AP members provide information and recommendations at the grassroots level to better inform the federal fishery management process.
The South Atlantic Council is currently soliciting applicants for open seats on the Dolphin Wahoo, Habitat, Law Enforcement, Mackerel Cobia, Shrimp, and Snapper Grouper advisory panels. Current members may also be eligible for reappointment. Details are available in a recent SAFMC news release advertising AP seats as well as two open seats on the Council's System Management Plan Workgroup.
Check out the updated advisory panel webpage to learn more and to access the online application. Share your knowledge and insight – and get involved!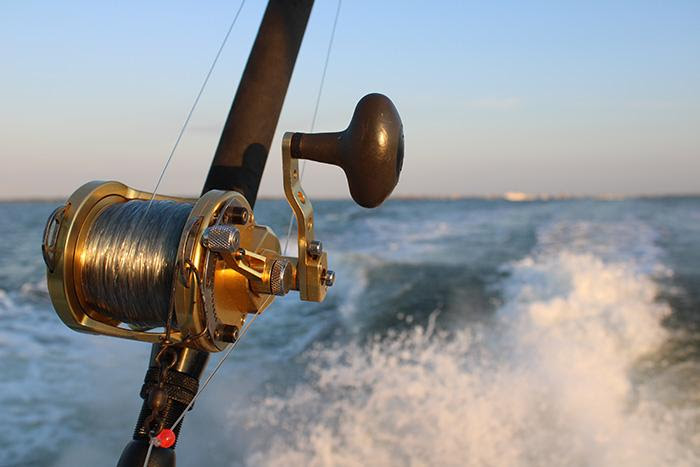 ---
SAFMC Science Seminar Series
Assessing the spatial footprint and ecological siting principles of artificial reefs in the South Atlantic
Tuesday, April 11, 2023 | 1 p.m. – 2:30 p.m. | Webinar registration
Artificial reefs have been used in the South Atlantic region to provide habitat and increase fishing and diving opportunities. As part of the SAFMC Science Seminar Series, the Council will host a presentation from NOAA National Centers for Coastal Ocean Science in April. The presentation will highlight findings from multiple studies on artificial reefs, including the artificial and natural reef area in the South Atlantic region, ecological principles for siting artificial reefs, and analyses of relative fish abundance.
A question and answer session will follow. The webinar presentations are for informational purposes only and no management actions are taken. Learn more about the Council's seminar series and register now to attend.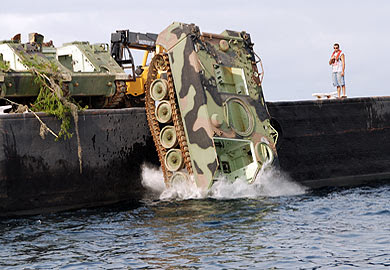 ---
Efforts for Best Practices Expand as FWC Implements New Requirements to Help Conserve Reef Fish
Beginning April 1, anglers fishing from a vessel targeting reef fish in Florida state waters will be required to have on board a descending device that is rigged and ready for use or a venting tool to help conserve reef fish. The new rule also requires the use of a descending device or venting tool if a fish is exhibiting signs of barotrauma prior to release.
A recent release from the Florida Fish and Wildlife Commission notes the rule was approved to increase the survival of released reef fish, a top priority management issue in both the Gulf and South Atlantic. The requirements are supported by the American Sportfishing Association and the Coastal Conservation Association of Florida.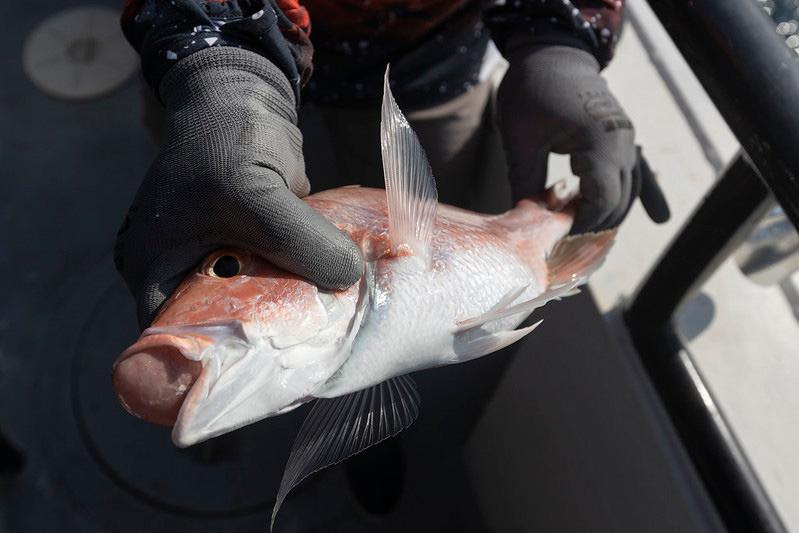 Know When and Know How
As reef fish are reeled up from depth they can suffer pressure-related injuries known as barotrauma. Can you identify the signs of barotrauma? Injuries include the stomach protruding out of the mouth, bulging eyes, bloated belly, and the inability to swim down independently. If not treated correctly, these injuries can be deadly. Not all fish need to be treated – learn to recognize the signs. And know how to use the gear. Visit the FWC website for video instructions on the use of descending devices and venting tools.
Best Fishing Practices and Federal Requirements
The likelihood of encountering fish suffering from barotrauma increases with water depth, and in most cases, the farther you run offshore. Requirements for descending devices to be onboard and ready for use for fishermen targeting snapper grouper species in federal waters (more than 3 miles off the South Atlantic coast) are also in place. Learn more about federal requirements and what the South Atlantic Council is doing to encourage best fishing practices to help ensure released fish survive to fight another day!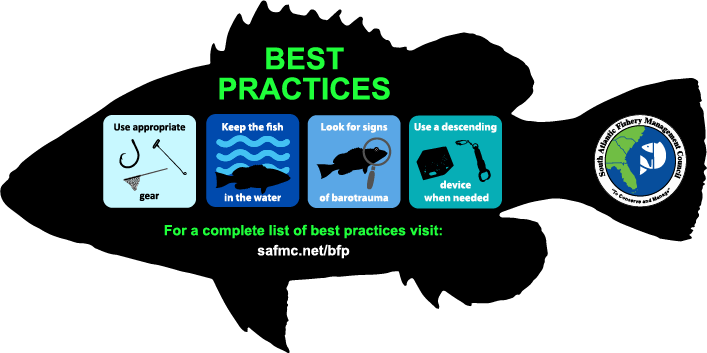 ---
Measuring Release Mortality in Hogfish
Hogfish are an economically valuable species found along the reefs in the South Atlantic, using their unusual mouths to sift through sand to find mollusks, crabs, and other animals. The Florida Wildlife Research Institute is taking a closer look at Hogfish to better understand Hogfish ecology and ensure sustainable management of this popular species.
The research includes the use of acoustic tags to learn about Hogfish behavior, including those that are caught on the hook and line and released. While Hogfish landings in Florida have historically been dominated by spear-fishers, the number of recreational anglers who target Hogfish using hook and line has recently increased. See how scientists are using the latest in acoustic telemetry to help better understand release mortality and other key factors important to the long-term management of Hogfish.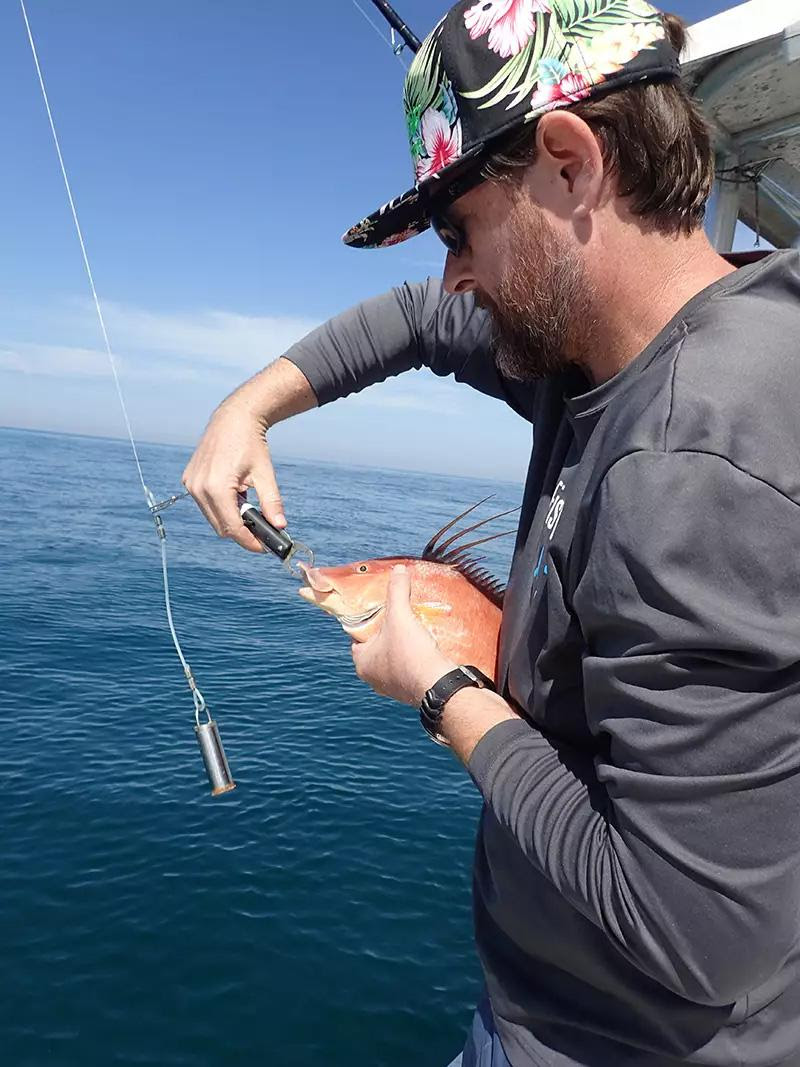 Photo: FWC/FWRI
---
AFS Call for Abstracts: Angler Engagement and Citizen Science Symposia
American Fisheries Society Annual Meeting August 20-24, 2023
If you or someone your know works with anglers in fisheries research or management, take note. The American Fisheries Society will host Citizen Science Focused Symposia as part of its 153rd annual meeting on August 20-24, 2023 in Grand Rapids, Michigan. Organizers for the Symposia include the South Atlantic Council's Citizen Science Program Manager, Julia Byrd. The first symposium focuses on angler engagement in fisheries research and management while the second addresses challenges and solutions for using citizen science data in fisheries management.
Anglers play an important role in providing scientists and managers with valuable data about the state of our fisheries. As new forms of electronic reporting come online, providing high-resolution data that could barely have been imagined just a few decades ago, anglers are becoming ever more important to fisheries research.
In addition, citizen science has generated interest among fisheries researchers and managers in recent years. The ability of volunteers to cover large areas and help collect information on economically and ecologically important fish stocks represents an intriguing option to fill much-needed data gaps.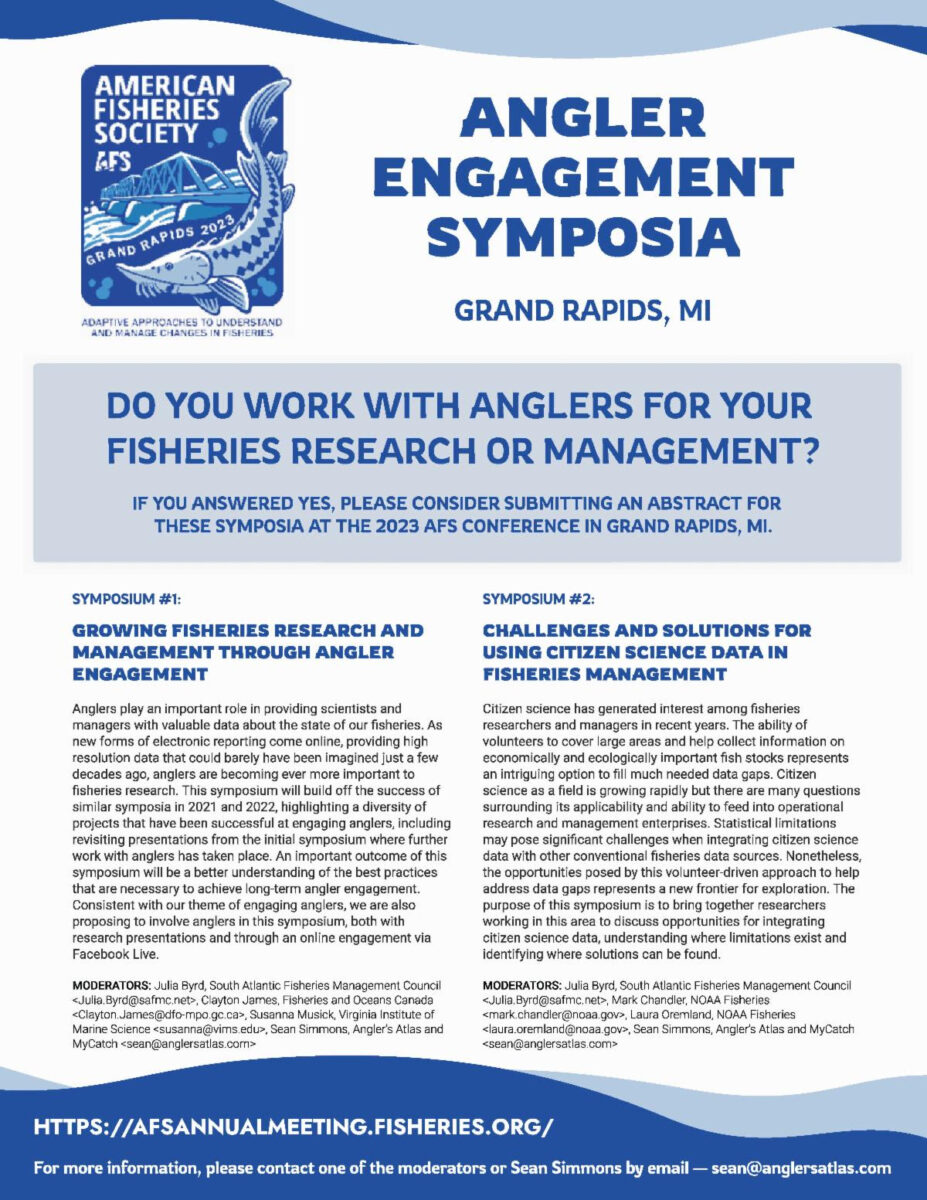 Click on the flyer for more details about the symposia. Persons interested in submitting abstracts for the symposia may contact Julia Byrd at Julia.Byrd@safmc.net or Sean Simmons, Angler's Atlas, and MyCatch at sean@angleratlas.com. AFS Annual Meeting information is available at: https://afsannualmeeting.fisheries.org/
---
Additional Snippets:
NOAA Fisheries, ACCSP Release Plan to Improve Atlantic Recreational Fisheries Data
The Atlantic Coastal Cooperative Statistics Program and NOAA Fisheries have jointly released the Marine Recreational Information Program Regional Implementation Plan for the Atlantic Coast. It highlights data needs and funding priorities over the next 5 years for improving recreational fisheries data collection on the Atlantic Coast. Learn more.
Blue Carbon Law Symposium Scheduled for May 17-18, 2023
Registration is now open for the Sea Grant Blue Carbon Law Symposium to be held in Athens, Georgia on May 17-18, 2023. The symposium will highlight the connections between blue carbon science, policy, and law, and explore the impacts of this rapidly evolving field on communities, businesses, governments, resource managers, and other stakeholders.
Blue carbon systems are natural coastal habitats, such as salt marshes, mangroves, and sea grasses, that are able to capture and store atmospheric carbon. Investing in blue carbon systems protects these habitats and surrounding coastal communities and helps mitigate some climate change impacts, such as sea level rise and worsening storm surge.
Mark Your Calendar
Keep track of meetings scheduled by the Council from the Meetings page of the website and register for meeting webinars as information becomes available. Register early and receive email reminders as the meeting date(s) approach!
April 17-20, 2023
Scientific & Statistical Committee and Socio-Economic Panel Meeting
Town and Country Inn
Charleston, SC
May 15, 2023
Snapper Grouper Recreational Permitting and Reporting Tech AP Meeting
via webinar
May 16-18, 2023
Habitat Protection and Ecosystem-Based Management Advisory Panel Meeting
Town and Country Inn
Charleston, SC